First Snow Fall at The Bat Farm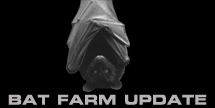 It finality came, you can mark it down. Yesterday was the first snow fall this autumn. Blowing snow, blood on the slick sidewalk and just deep enough in the Missouri flood-plan to take shelter of the government hacks and the long arm of the patriot act.
No sneak and peek at my library. She's big and she's deep. The books are all mine. I don't take names; I just remember faces.
All the bats are quite and the ceiling joists are just beginning to settle in for their long winter nap. They have been battling torrential winds, tornados and second hand curses from third rate witch doctors.
It's 35 outside and 65 inside CNN is on and state fair beauty queens fresh out of Columbia are reading the news. And it this wondrous snowy wonderland Fox News is never on; that button is broken.