Keeping up with the Bat Farm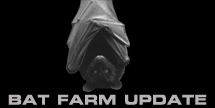 It has been a few weeks since I last posted to the rusty old blog, so I thought that I would toss a few words into the old combine to see what they produce.
As I'm writing this message I'm in a heated debate with the local weather man. The subject? Snow or no snow. So far this winter we here on the Mississippi flood plane have had only three snow falls all winter, producing no more then a few feet of snow. Is someone up there angry?
On a lighter note I have finished compiling my new chapbooks….. Needle in the Nightstand: The Fast Times of Jarhead Jerry and the Flood Plane Companion: The last Ride of Boxcar Bob. We're looking at a publish date around April 5th.
Also I would like to point out that my last chapbook "Mr. Cheney has a Shotgun" is purely coincidental….